National Health Care Facilities and Engineering Week
Celebrate Health Care Facilities and Engineering Week | October 22-28, 2023
Every year, in the last week of October, we celebrate the important role that facility team members have in ensuring a safe and efficient environment for all patients, residents, visitors and staff within hospitals.
Stay tuned for 2023 details! Below are activities and resources from 2022.
---
Connect via Social Media #CelebrateFE
The ASHE team is grateful to everyone in the health care field who is tireless in their efforts to keep our communities safe. Share stories and/or photos of your health care facility on social media. Don't forget to use the following hashtag, so we can all come together in appreciation.
---
Health Care Facilities and Engineering Week Events
Lunch & Learn
Review the key components of potable water safety, plumbing design methods that facilitate water management, the importance of planning new projects with water management in mind, and review a real-world example of how design methods and technology simplified water safety and WMP compliance.
Lunch & Learn
Greg Hunt, Commercial Product Manager for Chicago Faucets will discuss the crucial benefits of faucets specifically designed for health care, surgical applications, hygiene flush, and anti-microbial features.
On Demand Sessions
When: On Demand
The ASHE Annual Conference brought together thousands of health care facilities professionals to learn about new developments in the field, network with others and find solutions to their challenges.Earn continuing education credits and use them towards Certified Healthcare Facility Manager (CHFM) and Certified Healthcare Constructor (CHC) renewal.
Celebrate with themed gifts!
Celebrate with gifts from ASHE and Jim Coleman Ltd. featuring the official "Facilities & Engineering | Collaboration is Key" theme and logo.
---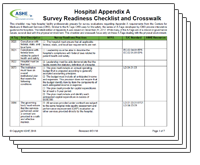 Hospital CMS Tag Checklists and Crosswalks
Download and use the latest crosswalks as checklists that will assist facility professionals in developing a safe and healing physical environment for the care of patients.
Learn more
Voices of ASHE
Voices of ASHE highlights individual members and their diverse experiences. We aim to celebrate our members and the amazing work you do, so please share your story today or nominate a colleague who you think should be featured. There are no criteria required related to years on the job, title or background. Sharing stories will inspire current members and future professionals, and will broaden the health care field's awareness of who we are and what we do.
---
Facilities And Engineering Week Communications Resources
Facilities and Engineering Week Logo
Download the Facilities and Engineering Week logo and develop your own promotional materials or include it in your email signature